Jakarta. Newlyweds Kaesang Pangarep and his wife Erina Gudono were not the only ones in the spotlight at Indonesia's recent royal wedding. But the little ones —aka President Joko "Jokowi" Widodo's grandchildren— also drew everyone's attention.
Jokowi's first grandson Jan Ethes Srinarendra became the spokesman at the ngunduh mantu wedding procession in Surakarta on Sunday. In a short clip compiled by BTV, Jan Ethes —the son of Surakarta Mayor Gibran Rakabuming Raka and wife Selvi Ananda— was seen speaking to reporters. The six-year-old was inaudible, but his grandfather was all smiles at the back.
"So what did we do today?" Jokowi said, prompting Jan Ethes to talk to the reporters.
"Louder," Jokowi told his grandson.
This was not the first time that Jan Ethes became the spokesperson at the royal wedding.
The first family's dress code for the pre-wedding ritual midodareni [wedding preps] procession had drawn everyone's attention. The family showed up in lilac-colored Javanese traditional costumes: beskap for men and kebaya for the ladies.
"It was Mr. Jokowi who chose [the lilac beskap]," Jan Ethes told reporters when asked about the dress code.
Next to him at the presser was cousin Sedah Mirah Nasution, the first child of Jokowi's daughter Kahiyang Ayu and Medan Mayor Bobby Nasution.
Jan Ethes teamed up with his cousin Sedah Mirah as the flower and ring bearers at the wedding ceremony.
They were seen giggling as they walked to the bride and groom.
Sedah Mirah's brother Panembahan Al Nahyan Nasution also became viral for his fashion choices. Unlike his cousins who all were dressed in traditional attires, Panembahan chose to dress casually throughout the wedding procession. One time he wore a white singlet and shorts. The other time he was seen in a black t-shirt. Nahyan also could not stand still when the first family was about to take a group photo.
"The family photos on Gibran's wedding came out great. Ayang's wedding also had great family photos. But when I got married, there was a kid in a singlet in the family photo," Kaesang tweeted on Monday.
In response to the tweet, Bobby said "don't be sad, the picture has been edited."
Udah jangan sedih gitu, udah di edit kok👍 https://t.co/pzv4eo8N5Q pic.twitter.com/xNPMAztA3p

— Bobby Nasution (@bobbynasution_) December 12, 2022
Another picture of Nahyan pointing at his now-married uncle in front of Jokowi amassed hundreds of retweets on Twitter.
"I, the father of Panembahan Al Nahyan, sincerely apologize once again to President Jokowi and his youngest son Kaesang," Bobby tweeted.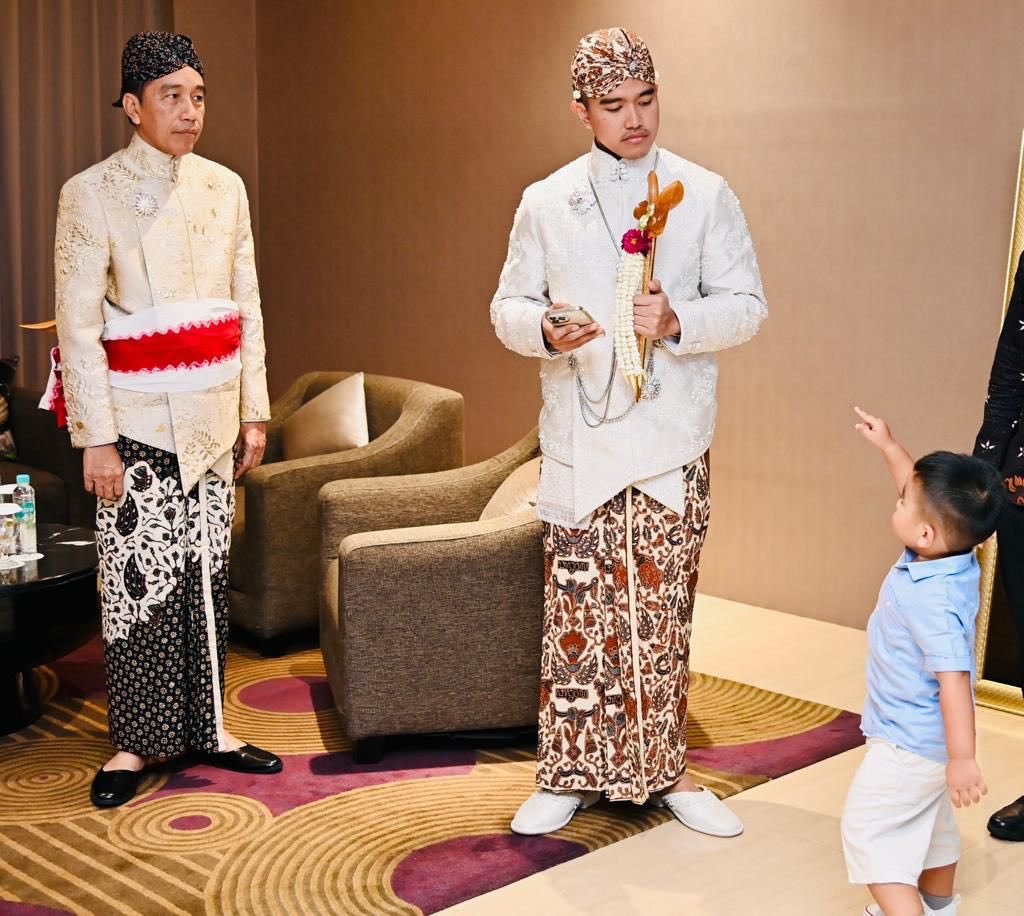 Congrats on Your Wedding!
Jokowi's youngest son Kaesang and Erina were showered with tons of wishes from attending guests, many of whom are high-profile individuals.
"Mr. Jokowi and Mrs. Iriana have given their blessings to their children. I think they were elated that their youngest child has gotten married.," Coordinating Minister for Maritime and Investment Affairs Luhut Binsar Pandjaitan told BTV.
West Java Governor Ridwan Kamil also congratulated the newlyweds.
"Hopefully, they would make a happy, loving, and supportive family. Kaesang is a millennial or Gen Z. So despite his stellar achievements, he remains a humble individual and obeys his parents," Ridwan said.