A mental health facility in Jakarta. (Photo courtesy of Andrea Star Reese/HRW)
Beyond Shackling: Psychosocial Disabilities and the Struggle for the Right to Vote
BY :ALEXANDER BLAIN
FEBRUARY 14, 2019
There is an anger in Indonesia. It has been building for years. People with psychosocial disabilities face disproportionate rates of marginalisation, alienation and poverty, and they have had enough.
Even their right to vote is in question and their right to work is under threat. The path to mental health reform is a long one, but it is not over yet.
Disability rights advocate Yeni Rosa Damayanti knows this more than anybody. She has been pushing for mental health reform for decades.
Composed, soft-spoken and friendly, Yeni has worked extensively, not just in the mental health sector, but across the entire disability rights movement.
She is the chairperson of the Indonesia Mental Health Association and a member of Transforming Communities for Inclusion of Persons With Psychosocial Disabilities (TCI) Asia Pacific—an alliance of people with psychosocial disabilities and their supporters.
Speaking to the Jakarta Globe, Yeni recounted how when she began campaigning even other disability advocates didn't acknowledge mental health disabilities as being within the disability rights movement in Indonesia. "We had no voice," she said.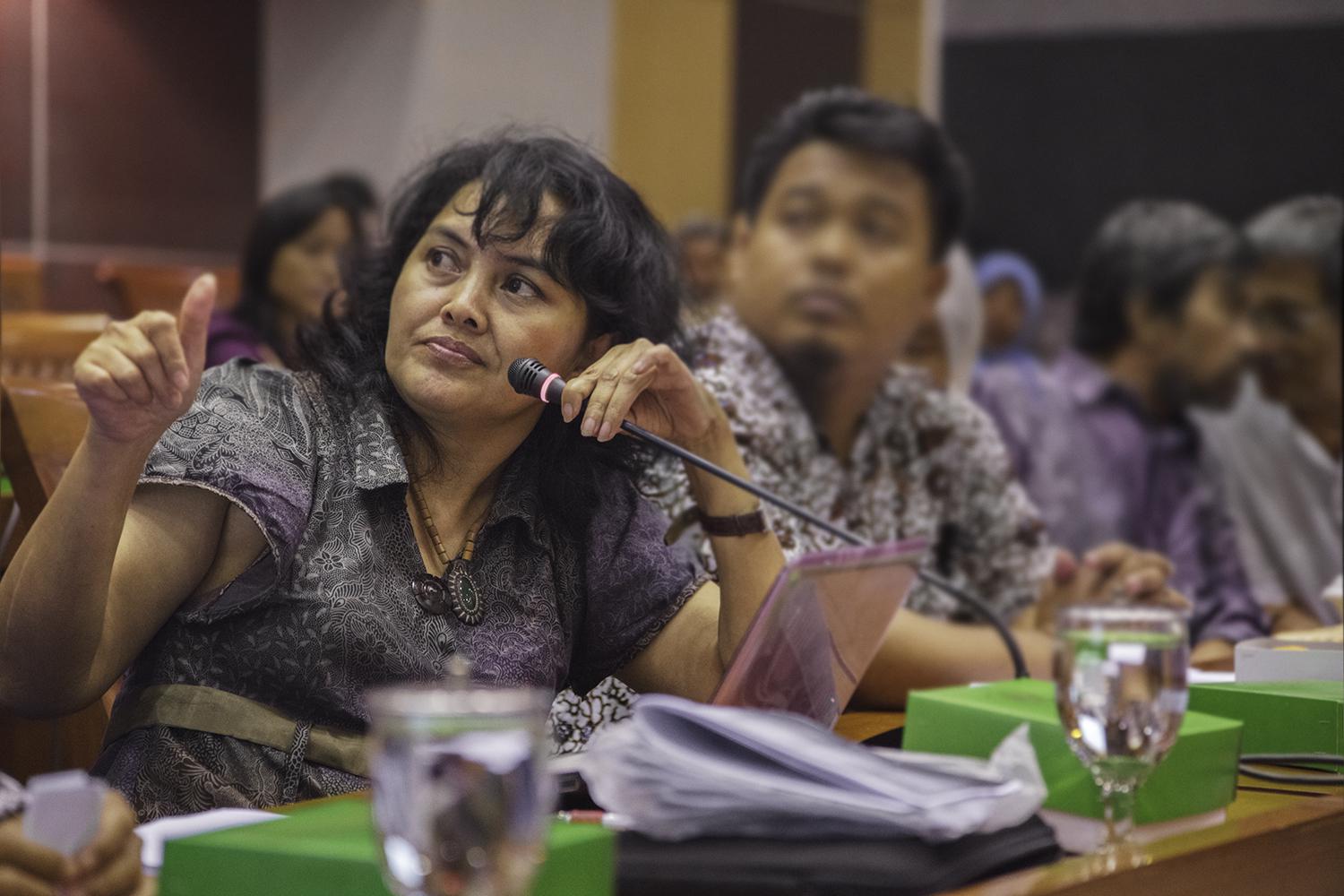 In 2016, Indonesia passed a mental health reform in the wake of New York-based Human Rights Watch's landmark Living in Hell report on pasung: the practise of shackling persons with psychosocial disabilities—the modern term to describe mental health conditions such as depression, bipolar, schizophrenia and catatonia.
While it has been banned since 1977, shackling remains a widespread response to mental illness in Indonesia.
Kriti Sharma, Human Rights Watch's senior researcher on disability in Asia, and author of the above report, said it gained "a lot of traction" in the media. "We got a strong reaction from the government," she said. "Officials recognised the practise was horrific."
The Situation Today
A lot of work has been done to release the estimated 57,000 people in chains across Indonesia. Combined efforts have brought the number of annual new cases down from 18,800 in 2014 to 12,800 in 2018.
However, the issue has always been about more than just shackling. The government knows this. In 78 percent of cases, shackling is a last resort for families who do not know how to care for a relative with a psychosocial disability.
Sharma credits this drop in new shackling cases to the Healthy Indonesia Program With Family Approach.
While the program, launched in late 2016, covers all areas of healthcare, the inclusion of basic mental health services has given families treatment options beyond shackling relatives in cages or sheds, or committing them to a mental health institution.
According to Sharma, it was a step in the right direction, a movement toward "long-term sustainability." "If [people] are given support, they can live productive lives," she said.
The program has seen many successes. However, as of July 2018, the program has only reached 21.5 million households across Indonesia, or about one in every four.
Across the board, Indonesians suffering from psychosocial disablities often still lack access to medical treatments.
Only one percent of Indonesia's annual budget is allocated to treating mental health; a low figure in a country where an estimated one million people have psychosis.
Indonesia has 773 psychiatrists for a population of 260 million; that is, one in every 323,000, compared to the American Psychiatric Association's recommended minimum ratio of one psychiatrist per 10,000 people.
Yeni put it like this: "the problem is the approach." In parts of Indonesia, she said, mental health care is limited to "only giving them medication or taking them to a mental hospital."
And the medication given to the patients is often out-of-date and no longer effective. According to Yeni, in some areas hospitals "still dispence old medications used in the 1950s, with severe side effects."
Unfortunately, Indonesia's decentralised system means in many areas, medical services are not distributed evenly.
If someone cannot get help at a community level, the next step is to go to the district health services in the district capital.
This often presents a problem because, as Yeni pointed out, "in many places those services are on a different island."
Shackling often happens because families feel they are running out of options and do not know what else to do.
A 2013 survey by the Health Ministry said 17 percent of Indonesians have at least a minor disability.
About 19 million Indonesians, or 6 percent of the population, live with a "mental emotional disorder" or mental health condition.
This is likely an underrepresentation, according to Human Rights Watch, since the numbers came from a self-reporting survey and did not include children under 15 years.
Yeni has campaigned for better treatment of Indonesians with psychosocial disabilities since the late 2000s, long before Human Rights Watch even began their research.
Her journey started in a support group for people with mental illness. She only became an advocate when she realized groups like that, even when organized together, are not big or powerful enough politically to effect real change.
Now after a decade, Yeni and her colleagues are front and centre in the disability rights movement. She even spoke at a United Nations conference on mental disabilities in Geneva in May 2018.
Right to Vote
Yeni's current focus on securing voting rights for people kept in mental health institutions has led to backlash from conservatives.
It's a contentious issue. Indonesia's Constitutional Court only decided to uphold the right of people with mental disabilities to vote in late 2016.
And that only after what Yeni described as a "hard fought battle."
Disability rights activists argue that taking away the right to vote from people with psychosocial disabilities is unconstitutional. And as Yeni said, "whenever a regulation is against the law, we protest."
The country's legislative council (DPR) followed the Constitutional Court's move in November last year, passing its own resolution to grant those with mental disabilities the right to vote.
Ace Hasan, deputy chairperman of Commision VIII at the DPR—which tackles religious, social and women's empowerment issues—said that every Indonesian has the right to vote.
The Jakarta General Elections Commission (KPU Jakarta) started registering voters and everything was "all nice and dandy," Yeni said.
However, grumblings were heard in some quarters.
Yeni said there were accusations that allowing people with psychosocial disabilities to vote was a "desperate attempt" to "tarnish the fairness of the election."
In January, it was reported that presidential challenger Prabowo Subianto was threatening to pull his nomination over the issue due to the possibility of voter fraud.
By then the damage had already been done.
The perceived outrage of political leaders can hold of a lot of sway and, in the age of social media, opinions can be devastating.
Social media is hard to control. "[It's] so full of people making jokes and ridiculing us," Yeni said. "We still have a lot of problems with the public [that doesn't understand us]."
Stigma is still a huge issue, and according to a 2003 report by the World Health organisation, is one of the biggest reasons people are reluctant to seek treatment.
"Political correctness can be triggered from above," Yeni says. "Political leaders must stop using disability as a game. People with mental illness are part of the community."
Right to Work
If disability is a game, then it is not just played by politicians.
Psychiatrists, who hold sway over the lives of people with psychosocial disabilities, should be at the spearhead of the campaign to improve treatment for people with mental disabiilities. "The real power has always been with the psychiatrists," Yeni said.
But that hasn't always been the case.
Though regulation has become stricter—"ten years ago it was not that strong," Yeni said—Indonesia is one of the few countries where people can still be interned in psychiatric institutions "without their consent."
Sharma had similar misgivings: "It's still relatively easy to admit someone against their will. Once their family leaves them there they cannot get out."
Now, people with mental disabilities need a psychiatrist to sign off on their right to work.
"In almost every office, you have to pass this so-called 'psikotes ['psycho-test'],'" Yeni said.
This ingrained system, acording to her, is "blatant discrimination."
The worst thing about it? This isn't some archaic regulation from the past, it's a new workplace regulation. Fifteen years ago a "psikotes" was "not necessary," but now, "no matter how talented you are, if you have psychosocial disability, you are not permitted to work," Yeni said.
"It is sad to see that they give you pills to keep you alive, but exclude you from life," she said.
In her speech to the UN in Geneva, Yeni told the story of how a director of a government care facility was particularly unhappy with the Constitutional Court's decision to give people with mental disabilities the right to vote.
The director, who Yeni confirmed to the Jakarta Globe as the director of the Panti Sosial Bina Laras facility in West Jakarta, "detested that hundreds of people with psychosocial disability in her facility were given the right to vote," Yeni told the UN forum.
Only 62 out of 849 patients in the facility were declared eligible to vote in the Jakarta gubernatorial election in April 2017.
This was within current regional laws, but Yeni believes they are "unconstitutional." As she pointed out, the Indonesian election law does not recognize limitations on voter's eligibility. "It's not limited. There are no requirements [to vote]," Yeni said.
In August last year, KPU Jakarta began registering voters with psychosocial disabilities for the 2019 general election.
As part of this process, psychiatrists were given tours of several mental health facilities across Jakarta.
The result? 1800 out of 2500 patients interviewed by the psychiatrists were struck off the voting roll.
"Crossed out. Dropped," Yeni said. To her, this was a betrayal. As she told the UN forum in Geneva, "They were robbed. Their rights to vote were taken away. They were treated as second-class citizens, like they have always been.
Yeni let out a big sigh as she admitted: "I'm becoming quite bitter."
Looking to the Future
There might be light at the end of the tunnel. Steps are being taken. "They're working on it," Yeni said. Indonesia launched a mandatory national health insurance system in 2014 and aims to ensure the coverage—including mental health care—is available to 247 million Indonesians by this year.
The Healthy Indonesia program, which Kriti Sharma credited with helping tackling the shackling problem, continues to be expanded.
At a public seminar in Jakarta on Dec. 3 last year—the International Day of Disabled Persons—Law and Human Rights Minister Yasonna Laoly promised that a government effort would be implemented and a cross-ministerial taskforce appointed to look into human rights violations in mental health institutions.
Will this be enough? The onus is on the government, Yeni said.
"It's the responsibility of the government [to make sure it's enough]," Yeni said. Meanwhile, she's not giving up the fight for Indonesia's mental health just yet.