House Approves New KPK Leadership
Hotman Siregar & Carlos KY Paath & Nur Yasmin
September 16, 2019 | 4:57 pm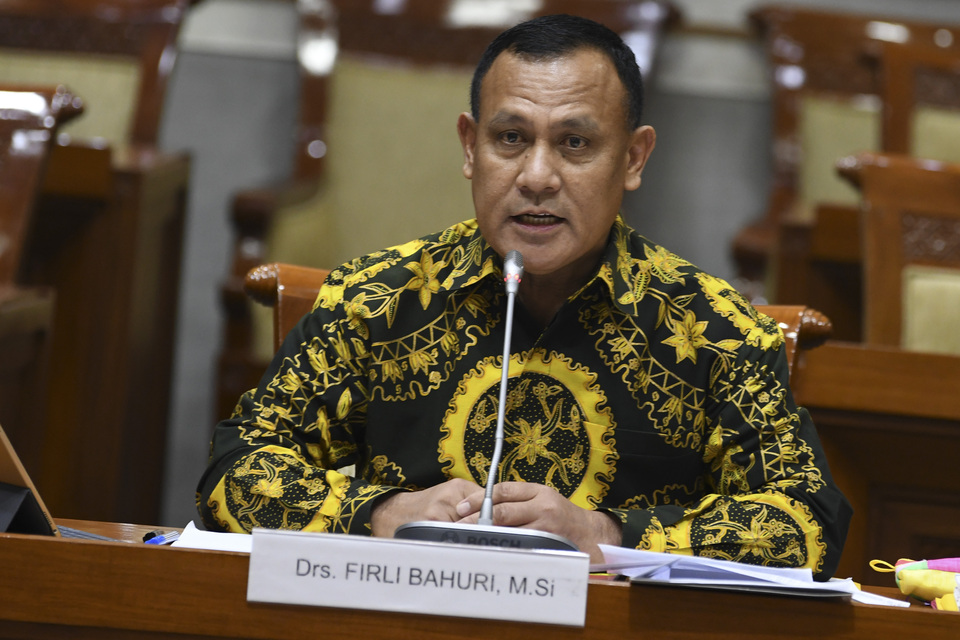 The House of Representative approved the appointment of South Sumatra Police chief Insp. Gen. Firli Bahuri as chairman of the Corruption Eradication Commission (KPK) on Monday. (Antara Photo/Nova Wahyudi)
Jakarta. The House of Representative approved the 2019-2023 leadership of the national antigraft agency during a plenary session on Monday.
The current leadership of the Corruption Eradication Commission (KPK) rejected last week's selection of new commissioners by House Commission III, which oversees legal affairs.
South Sumatra Police chief Insp. Gen. Firli Bahuri received lawmakers' full support as the agency's new chairman, while Nawawi Pomolango, Alexander Marwata, Nurul Ghufron and Lili Pintauli Siregar were appointed as commissioners.
Firli's selection as chairman drew widespread objection over allegations of misconduct against him. He reportedly accepted 600 free tickets to a concert of Irish boyband Westlife in Palembang, South Sumatra, in August this year.
Saut Situmorang, a current KPK commissioner, and Tsani Annafari, an advisor to the agency, both resigned from their posts in protest after Firli was announced as the new chairman.
The names of the new KPK leaders will now be submitted to President Joko "Jokowi" Widodo.
Concerns
KPK chairman Agus Rahardjo said on Friday last week that there were attempts to defang the agency, especially with the appointment of Firli as chairman and a revision to the KPK Law, set to be approved soon.
Agus said they would return their mandates to the president, but Jokowi responded by saying that the law did not allow this.
"It is not in the KPK Law, though it does provide for the resignation of commissioners," Jokowi said on Monday.
The president said the government was pushing for the revisions to the KPK Law. He added that he never doubted the integrity of the agency or its current chairman.
"The KPK is a state institution, so be wise in statesmanship. The KPK Law revisions are at the House of Representatives, so let's observe it together," the president said.
Agus has condemned what he described as poor communication and a lack of discussion by the House in approving the KPK Law revisions. He said the process also appeared to have been completed with undue haste.
"What is the emergency? Why is it so important to have it approved immediately? We are really concerned and think it will seriously weaken the KPK. But our judgment is still temporary; we hope the president will take measures to rescue the situation," he said on Friday.
Tags:
POPULAR READS
---